VeryAndroid SMS Backup: keep your android sms safe and manage your android sms easily
VeryAndroid SMS Backup is the first smart andriod sms backup and managment software. It can copy and backup sms on Android phone to computer, restore sms backup file to any android phone, and also send messages or chat with a friend on computer directly, exactly the same as that you do on your android phone. Version 1.1 released 09.05.2011

Want to send phone sms on your computer directly? Want to copy text from computer and send them as SMS to your firends? Now you can do this on your computer easily. PC Tool for VeryAndroid SMS Backup SMS enables you to send messages on computer and SMS Chat with your friend on computer directly, exactly the same as that you do on your android phone.

Description:
With VeryAndroid SMS Backup , you can automatically copy your android sms to computer and save it as CSV file or txt file as you wish. Moreover, it brings us the shortcut to move your other phone's sms backup file(CSV files) to your new android phone directly. No valulable sms left behind anymore. More importantly, you can use PC Tool for VeryAndroid SMS Backup to manage your sms on computer directly. You even can send messages on computer or sms chat with your specific contact directly on your computer. All android users should own such a powerful android sms backup manager.
SMS Backup features:
Copy and backup sms from Anroid phone to computer
Restore sms from CSV to android phone any time..
Transfer sms to android phones from other phones
Easy to Setup, Easy to Use
Send SMS & SMS Chat on computer directly
View sms messages in threading mode on computer
Quick Search function by keyword.
100% clean, safe to download and easy to install or uninstall
User-friendly design and very easy to use
One time fee and lifelong free upgrade
Free and quick customer support
Transfer sms from Anroid phone to computer as csv file or file. VeryAndroid SMS Backup can copy and backup your sms from your android phones to computer easily. You can choose to backup your sms file into csv or txt file.
After you backup your android phone's sms to a CSV file, you can restore it to your any android phone any time.
Want to transfer SMS to your Android phone from other devices such as an iPhone? As long as you have your sms file in correct csv format (no matter it's exported from android or other os phones), you can restore it to android phone easily with VeryAndroid SMS Backup.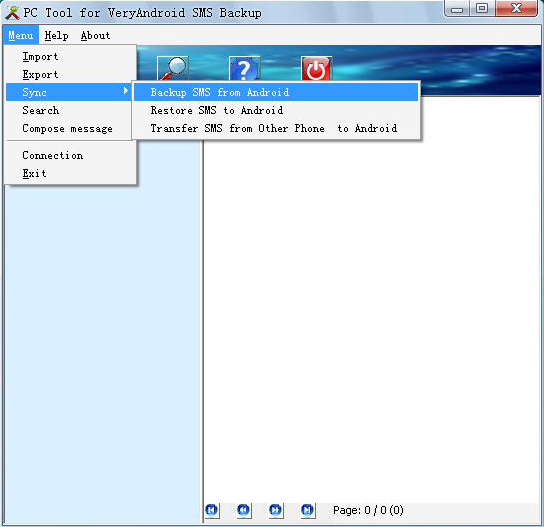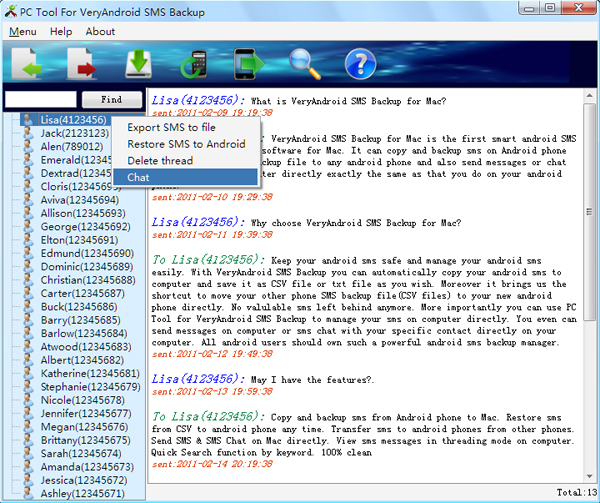 You can view all your sms in threading mode on your computer via our pc tool for android sms. More intuitive.
When you are viewing sms on your computer, you can fast search your wanted sms from Inbox, OutBox or a certain person.
If you own an android phone as well as a windows computer, this SMS Backup must be the most ideal tool to keep your android sms safe and manage your android sms easily!
More information about this application you can find here
Support: We will be glad to support you at support@veryandroid.com, if you have any questions or concerns. We are always glad to hear from you!Feel free to post your ideas; we will try to implement them as fast as possible.